As we enter 2023, organizations worldwide continue to rely on virtual data room providers to protect their sensitive information during critical transactions. Because of their convenience and security, virtual data rooms are becoming increasingly popular for mergers and acquisitions, fundraising, and legal proceedings.
Nevertheless, with so many virtual data room providers available, it might be tough to select the best one for your company's requirements. That is why we have compiled a list of the ten finest virtual data room providers in 2023.
From complex security features to an easy-to-use interface, our list will assist you in choosing the ideal virtual data room provider to fit your specific company needs. So sit back, relax, and keep reading to learn about the best virtual data room providers in 2023.
What's a Virtual Data Room Provider?
A virtual data room provider is a company that offers a secure online platform for businesses and organizations to share and collaborate on sensitive documents and information. These virtual data rooms are typically used for mergers and acquisitions, fundraising, IPOs, due diligence, legal proceedings, and other complex business transactions that require the secure exchange of confidential data.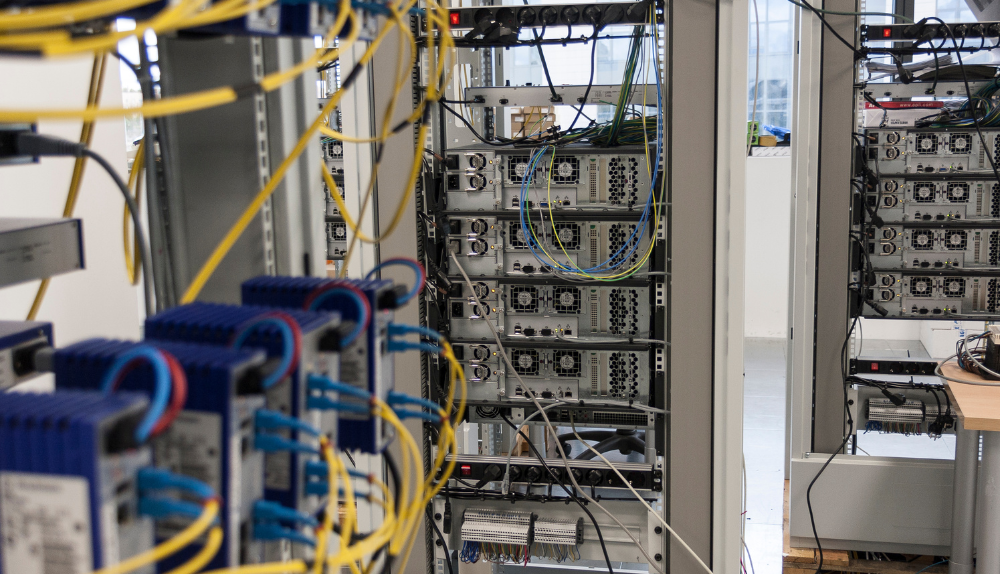 Virtual data room providers offer advanced security features to protect data from unauthorized access, including encryption, two-factor authentication, and access controls. They also provide tracking and reporting capabilities so that businesses can monitor user activity and audit data access and use.
Virtual data room providers offer different pricing plans depending on the level of service and feature required, and some providers specialize in specific industries or use cases. Overall, virtual data room providers enable businesses to streamline document sharing, increase collaboration, and reduce risk when working with confidential information.
10 Best Virtual Data Room Providers in 2023
Here is our list of the best Virtual data room providers:
1. DealRoom
About
DealRoom Inc, founded in 2012, is an American software supplier that has positioned itself as a key participant in the M&A management industry. DealRoom's all-in-one business platform, headquartered in Chicago, Illinois, has assisted innumerable organizations in raising financing, closing M&A transactions, and collaborating more effectively.
DealRoom, unlike several competitors, has maintained its independence and undergone no significant rebranding initiatives. The platform has been featured on the M&A Science network, a podcast platform for dealmakers, solidifying its position as a must-have tool for M&A professionals.
DealRoom's adaptability is one of its key features, with the platform appropriate for organizations of all sizes in the merger-and-acquisition stage. DealRoom enables firms to operate smarter and quicker by optimizing numerous processes, resulting in a more effective transaction process.
To test the platform's capabilities, DealRoom offers a 14-day free trial, which may be acquired by contacting their customer service representative via their website. Customers can also book a free 30-minute video demonstration to learn more about the platform's features.
Pricing
DealRoom offers monthly or annual payments for Single Room, Professional, and Enterprise plans. The Single Room plan is $1,250/month, the Professional plan is $3,000/month, and the Enterprise plan is custom priced. For long-term projects, most users find the medium-high rate cost-effective. Medium-to-large businesses can use the two-week free trial.
DealRoom, an M&A lifecycle management software for collaboration and responsiveness, offers digital deals for organizations of any size. DealRoom managers give top-notch technical support and customer service during transactions.
2. iDeals
About
iDeals Solutions is a prominent virtual data room supplier that supports every deal stage. The platform helps you manage company data, share files, save secure documents, and communicate.
Since 2008, New York-based iDeals has opened offices in London, Dubai, Hong Kong, Melbourne, Kyiv, and São Paulo.
iDeals' 30-day free trial lets new users learn how to operate virtual data rooms, evaluate system performance, and receive excellent customer service. Video tutorials and customized on-premise and online training sessions ensure VDR deployment on the platform.
Client feedback suggests that the service is well worth the investment, and we highly recommend it as a reliable provider with a dedicated project team. The platform simplifies complex processes, helping businesses collaborate and work efficiently.
Pricing
iDeals offers three monthly flat-fee plans: Pro, Business, and Enterprise, each with a different storage volume, feature set, and support level. iDeals' pricing structure is at the center when compared to competitors in the market. However, the plans provide a full feature set with more possibilities. The platform also allows pricing plan upgrades and downgrades and for distributing storage capacity across different projects.
Several industry titans value iDeals for its superior functionality, high-quality services, and dependable document security. The platform's 30-day trial period further emphasizes its dependability, providing a valuable opportunity for individuals looking for a secure virtual data room who are unsure about using iDeals.
3. Merril
About
Merrill Datasite is a flexible online data room solution that's ideal for Investment Banking, Business Development, Private Equity, and Law Firms. It provides extensive visual analytics for document activity and allows users to adjust settings to manage these activities. The platform's security is industry-leading, meeting even the most demanding security needs.
Among its features are permission management capabilities, the ability to set document access levels based on roles, a contextual search, and a drag-and-drop feature for file uploads. Files can be published instantly or scheduled for later publishing.
Merrill Datasite works on both Windows and Mac systems and supports zip files up to 50 GB in size. It also supports a variety of languages, such as English, German, and French.
Pricing
Merrill Datasite provides virtual data room solutions, particularly to large organizations involved in mergers and acquisitions, putting it in the premium pricing category. Merrill Datasite charges per page based on users' reviews, resulting in higher-than-expected ultimate bills.
Contacting the Merrill Datasite office in your area and providing details on your company's needs, size, and expected deals will result in customized cost quotations. Pricing information is not available on the company's official website, so interested parties must contact the sales staff for further details.
4. Intralinks
About
Intralinks is a leading global technology solutions provider that specializes in data management and collaboration. Established in New York in 1996, Intralinks launched the first-ever virtual data room product in 2002 and has since dominated a significant share of the VDR market.
While Intralinks offers a wide range of capabilities, we consider its pricing expensive, making it ideal for big companies and projects. However, users can take advantage of the free demo on their website, although a free trial is currently unavailable, to determine whether it meets their requirements.
Pricing
Users of Intralinks' Virtual Data Room software cannot access predetermined pricing and tariff options. Instead, Intralinks estimates the cost per user. According to user reviews, the Intralinks data room services start at roughly $25 per person.
When compared to most of its competitors, who predominantly serve large organizations, this places Intralinks at the higher end of the cost spectrum. Although Intralinks' premium pricing reflects the company's vast experience in the finance software field, other less expensive options are on the market.
5. Ansarada
About
Ansarada Group Ltd. is an Australian software company that provides the Ansarada platform for virtual data rooms. Ansarada Group Ltd. was founded in 2005, rebranded in 2017, and combined with Thedocyard Ltd. in 2020 to establish Ansarada Group Ltd. Ansarada maintains offices in nations such as the United States, the United Kingdom, and China.
Ansarada's secure virtual data rooms provide a single option for sharing sensitive documents, preparing reports, contacting investors, and more. On the Ansarada website, interested consumers can sign up for a 14-day free trial and request a demo.
Pricing
Ansarada offers a separate pricing scheme for its virtual data room plans tailored to each client's specific data storage and duration needs. The plans are divided into four categories based on data storage capacity: 250MB – $499, 1GB – $1,299, 2GB – $1,799, 4GB – $2,499, and more than 4GB.
Customers can also choose the duration of their plan, which can be monthly with the 250MB plan starting at $499, 3-month – $424, 6-month – $374, or annual – $299, depending on their demands. Furthermore, Ansarada provides one-of-a-kind pricing for their tender platform for projects such as feasibility studies or RFPs.
6. SmartRoom
About
Since its inception in 2004, SmartRoom has been a notable provider of virtual data room services. BMC Group VDR LLC operates the corporation based in Los Angeles but has 13 offices spanning Asia, Europe, and the U.S. SmartRoom provides enterprises with access to an investor site and an investment reporting tool in addition to VDR services.
This makes it an excellent alternative for both medium-sized businesses and substantial worldwide corporations. While SmartRoom does not give a free trial period, interested parties can request a free sample presentation to learn more about the services offered.
Pricing
SmartRoom customizes prices based on customer quotations. The quote depends on project type, company size, and integrations. Storage-based pricing starts at $1 per 1MB per month in Japan, with a 500MB minimum. VDR usage length and data usage over the agreed-upon limit may affect the service's final pricing. Contact SmartRoom for price and policy information.
7. SecureDocs
About
SecureDocs, situated in Santa Barbara, California, offers an efficient, safe, user-friendly virtual data room platform and a full suite of corporate solutions. The company's founding team set out in 2012 to create a dependable and cheap platform for storing secret corporate documents and managing workflows.
In addition to the virtual data room, SecureDocs provides two other products: ContractWorks for safe data storage and sharing and ReadySign for secure electronic signatures.
Regardless of industry or company size, SecureDocs' virtual data room software is best suited for data-heavy transactions such as M&A, fundraising, IPOs, bankruptcy, and business valuations. You can test the software's applicability with a 14-day free trial and request a free demo.
Pricing
SecureDocs offers a variety of price options for its virtual data room services to its customers, including a 3-month plan for small enterprises, a 12-month plan for medium-sized firms, and volume packages for bigger organizations. The 3-month plan costs $400 per month, whereas other options are paid individually.
This adaptable price structure enables businesses of all sizes and demands to use SecureDocs' secure and dependable virtual data room technology.
8. Onehub
About
Onehub's virtual data room solution enables users to securely share files, save data, interact effortlessly, and easily sign critical contracts for deals.
The company was formed in Seattle in 2007, with humble beginnings in the backyard of their CTO. It has become a solid platform trusted by one million users in 150 countries.
New customers can take advantage of a 14-day free trial to evaluate Onehub's capabilities and assess whether it fits their needs well. Interested parties can also book a demo to learn more about the product and get answers to their queries. Furthermore, an account executive can work with clients to tailor the program to their specific needs.
Pricing
Onehub's virtual data room cost starts at $375 per month, and you can pay it monthly or annually. The package includes five users, with each extra user costing $25. The data room plan includes up to 1000 users, limitless cloud-based storage, and 200 workspaces.
When compared to other industry competitors, Onehub data room is primarily oriented toward small and medium-sized businesses and falls within the low to medium pricing range.
9. Firmex
About
Firmex, established in Canada in 2006, is an industry leader among VDR service providers. It rebranded in 2010 to become a worldwide VDR provider and has assisted other businesses in attaining their goals since then. To this day, despite being acquired by Datasite LLC in 2021, Firmex maintains operations in both Toronto and London.
The Firmex VDR team is happy to provide a demonstration of the software if you are interested. In addition, the business might provide a free trial, the details of which are up for negotiation.
Pricing
According to reviews, the Firmex pricing structure is both adaptable and reasonable. Users have noted that Firmex bills each customer on a monthly basis and customize the features and services they receive based on their specific needs.
Having a clear idea of what you need from a data room will help you get a quote that's accurate. It's possible that prospective customers will take advantage of the no-risk offer.
10. Clinked
About
Clinked is a private, cloud-based portal that can be rebranded under your own name for use by your company's employees and clients to share and access sensitive information. Since its inception in 2009, Clinked has called Cambridge, UK, home.
The company is formally known as Rabbitsoft. Welding Alloys Group provides funding for this company, which provides a variety of solutions, including a virtual data room (VDR), to improve the safety of internal and external communications and collaborations.
Pricing
Clinked has four different pricing tiers to accommodate businesses of all sizes and needs. The lowest-priced plan is $83 per month (billed annually). But you can try the program risk-free for 10 days before committing to buying it.
Conclusion
In 2023, enterprises will continue to use virtual data rooms to protect sensitive data during essential transactions. Virtual data rooms are popular for mergers & acquisitions, fundraising, and legal processes because of their convenience and security.
The ten finest virtual data room providers in this article offer unique features, excellent security, and flexible pricing plans to meet organizational needs. DealRoom, iDeals, Merrill, and others offer top-notch technical support, customer care, and functionality. Virtual data rooms speed document sharing, boost collaboration, and reduce risk when handling secret information, making them important for modern enterprises.